Adopt the latest Crystal Reports without changing your code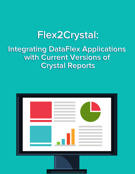 Mertech's Flex2Crystal connectivity solution seamlessly integrates Visual DataFlex applications with the most recent version of Crystal Reports, while allowing you to continue using existing reports from older versions. In addition, continuous updates ensure that Flex2Crystal supports new Crystal Reports features as soon as they become available.

Download the guide to see how Flex2Crystal makes it easy to integrate DataFlex apps and Crystal Reports.