Flex2SQL v17 has support for both 64-bit & 32-bit Unicode
DataFlex 2021 has been released with some significant changes to support 64-bit Windows and Unicode. Our team has been working hard over the past several months to ensure that our Flex2SQL drivers are ready to support these changes. Besides supporting 64-bit and Unicode, we have also added a bunch of new features and improved existing functionalities.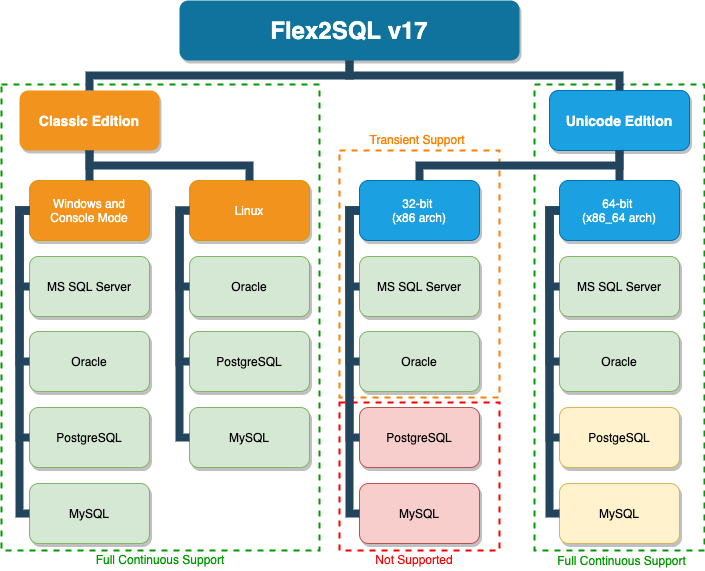 The initial release of Flex2SQL v17 will have two versions: a 32-bit Classic Edition and a 64-bit Unicode Edition. The Classic Edition will support all versions of DataFlex before DataFlex 2021, including DataFlex console mode and DataFlex for Linux. Flex2SQL v17 Unicode Edition will be exclusively for DataFlex 2021 and later.

In the diagram above, we have laid out the various versions of Flex2SQL that we will be supporting ( or not supporting).

Drivers in Green: Fully supported
Drivers in Yellow: fully supported but released later
Drivers in Red: Not support
We expect that the 32-bit Unicode Edition for Oracle and MS-SQL Server will be transient products, meaning those customers who need them now will eventually move to a 64-bit architecture over the next 3-5 years. The 64-bit Unicode Edition MySQL and PostgreSQL drivers for DataFlex 2021 will be made available after the Oracle and MS SQL Server versions for DataFlex 2021 have been released.
Watch the replay of the product roadmap webinar to get the complete detail and new features coming in Flex2SQL 17.